On May 27, 1867 twenty-six residents of the Town of Mt. Pleasant in Green County and the surrounding area did mutually bind and obligate themselves in writing as charter members of a Town Mutual Fire Insurance Co. for the purpose of indemnifying one another for loss to their property by fire. Each member paid $250 to start the company. The company was named Mt. Pleasant Mutual Fire Ins. Co.
In 1971 the Perry Mutual Fire Ins. Co. of Iowa County merged into the Mt. Pleasant Mutual Fire Ins. Co becoming Mt. Pleasant-Perry Mutual Ins. Co.
 Many changes have taken place over the years in the insurance industry. Now in the 21st century, Mt. Pleasant-Perry Mutual insures in 10 counties, has over 2000 policies with over $500 million in covered property. The first 125 years in business have proved to be a challenge. Mt. Pleasant-Perry has adapted to the changes required to meet the policyholders needs and remains committed to "Neighbor Insuring Neighbor"
Mt Pleasant-Perry Mutual Insurance Company and Middleton Insurance Company merged on January 1, 2020. The new company, Mt Pleasant-Perry Middleton Mutual Insurance (MPPM), has the combined strength potential that is beneficial to the policyholders of both companies. The companies had overlapping territories and the merged company will write policies in thirteen south west counties. The home office will continue in Monticello location. We have now celebrated our 1 st anniversary as a merged company.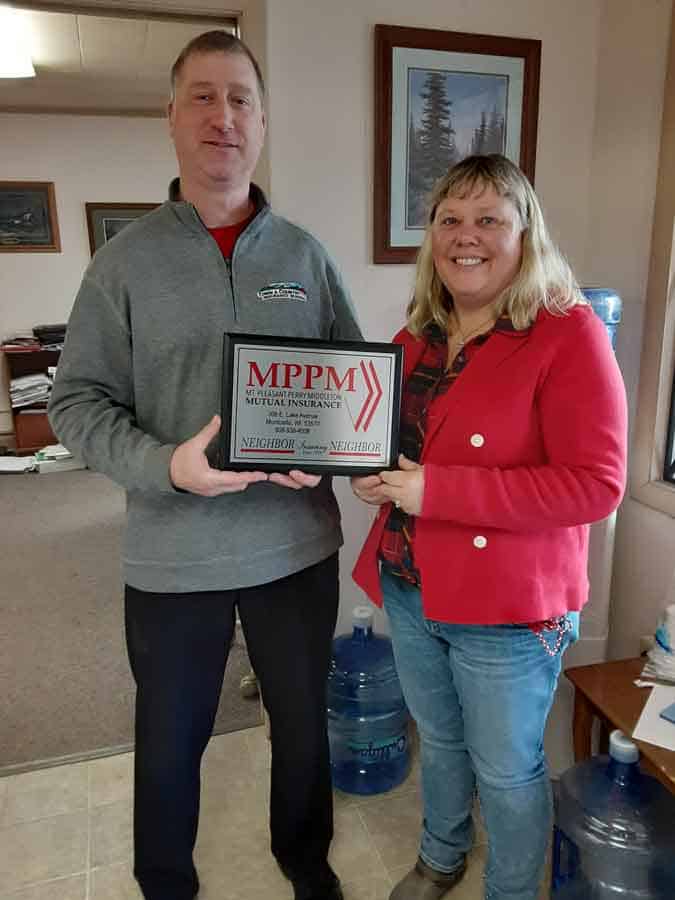 Eric Straehl of Town and County Insurance accepts wall plaque recognizing business association with MPPM. (MPPM company manager, Wendy Runkle also pictured).
Business Hours
8:00 AM to 4:30 PM
Monday through Friday
Mail Us or Drop In
P.O. Box 38
306 East Lake Avenue.
Monticello, WI 53570